Cover date October 2016
Published/on sale Friday 2nd September 2016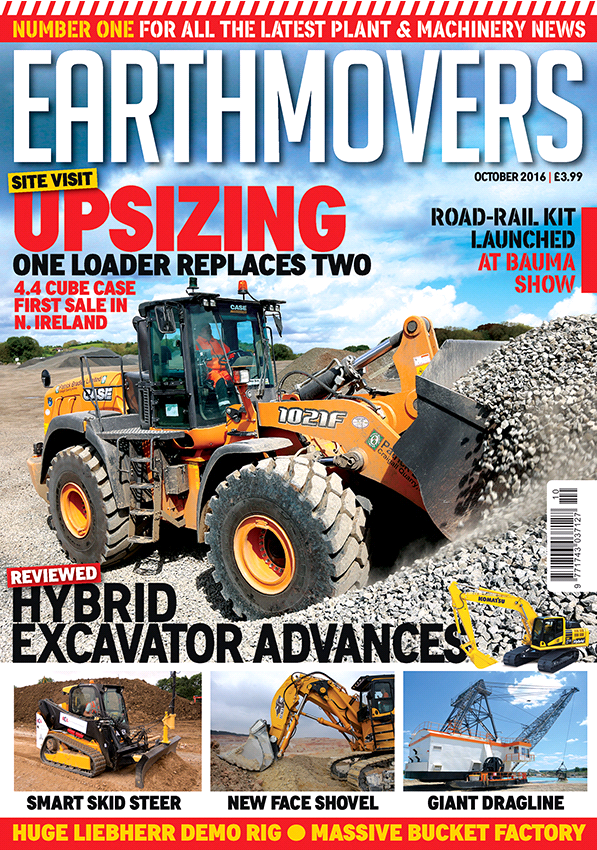 | | |
| --- | --- |
| FIRST IMPRESSIONS: CASE 1021F: Believed to be the first loader to join a quarry fleet in the island of Ireland. | NEWS: A round-up of the latest news from the earthmoving and associated machinery industry. |
| TECHNOLOGY: TOPCON GPS: One firm is expanding its use of machine control and guidance technology. | MEN & MACHINES: OWEN MAYS: Owner/operator relies on Classic Takeuchi mini-excavators for a living. |
| SITE VISIT: SHELL CENTRE: McGee demolition project is one of the largest in the heart of London. | SPECIAL ADAPTATION: KOMATSU PC800: A China Clay mine in the Czech Republic runs some unusual machines. |
| FLEET FOCUS: M&H GROUNDWORKS: Dedication and the right machine choices lead to a first £1m contract. | MARKET REVIEW: HYBRID EXCAVATORS: Our review of the latest developments in hybrid-drive excavators. |
| EXTREME MACHINE: R994 DEMO RIG: Giant Liebherr excavator takes on underwater demolition projects. | RECYCLING: TIPPERS R US: Industry legend behind a new plant hire and recycling firm with ambitious aims. |
| SPECIAL ADAPTATION: HITACHI 350: Could this possibly be the most versatile demo excavator in the UK? | FIRST IMPRESSIONS: CASE CX370D: Scots plant hire firm's new excavator makes a positive impression. |
| MEN & MACHINES: COURTNEY KING: Owner/operator has purchased his second generation of tilt-rotator. | FACTORY VISIT: HSM BUCKETS: Here's what it takes to build some of the world's largest excavator buckets. |
| TRANSPORT: BAS MINING TRUCKS: Dutch truck dealer specialises in customised versions of Volvo haulers. | SHOW REPORT: ROAD-RAILERS:Developments in the road-rail sector of the market seen at the Bauma show. |
| EXTREME MACHINE: RB 480W: 50-year-old 800-tonne walking dragline settles into work in a French quarry. | SUBSCRIBE & SAVE: Take out an annual subscription – don't miss an issue and save up to £7.90 into the bargain! |
| JOBS & TRAINING: The latest job opportunities around the industry together with selected training courses. | PLANTMOBILIA: CCM's 1:24-scale Cat D10T2 dozers are chunky models with a high standard of detailing. |
| NEXT MONTH: Here's a taster of just some of the exciting features planned for the next issue. | PICTURE POST: Got any interesting or unusual pictures of earthmoving men or machinery? WIN £20 for our 'Pic of the Month'. |
REGULARS
News A round-up of the latest news from the earthmoving and associated machinery industry.
Plantmobilia Interesting larger-scale models,some of which appeared for the first time at the recent Bauma show.
Jobs & Training The latest recruitment opportunities, together with specialists training courses.
Picture Post Got any interesting or unusual pictures of earthmoving men or machinery? Win £20 for our ëPic of the Monthí.